查看所有Girder Clips
---
1575 現貨庫存,可於6工作日發貨。
單位
Per unit
Per Pack*
25 - 100
TWD50.00
TWD1,250.00
125 +
TWD41.20
TWD1,030.00
* 參考價格
RS庫存編號:

203-7650

製造商:
法例與合規
COO (Country of Origin):

GB
---
產品詳細資訊
Clip-on Cable-tie Bases
RS PRO Clip-on Cable-tie Bases

Brought to you by the trusted RS PRO brand, this clip-on cable tie base is a versatile accessory for cable management solutions. They are designed to clip on to steel girders and have an eyelet to securely slide a conventional cable tie through. As such, by using these clip mount bases at appropriate intervals, individual or bundles of cables can be easily secured along a girder. For cable routing in many kinds of environment and application, these girder cable tie bases are ideal.

They are available in vertical and horizontal flanges, and in different sizes:







Features and Benefits
Metal clip-on cable tie mounting base
Fast, adjustable and easy to use
No adhesive or screw fixing necessary
Cable ties can be used in almost any application where cables are used. Whether to secure individual cables, or to bundle relevant individual cables together, cable ties are a fast and effective cable management accessory. These clip-mounted cable tie bases can be used alongside cable ties to secure cables to surfaces as well as organizing them, which is ideal for running cables safely over long distances. They are ideally used with plastic cable ties, but can also be used with appropriate metal cable ties. They might typically be used in;

IT hardware management and server farms
Construction
Offices and commercial buildings


What are the advantages of clip-on cable tie mounts?
Unlike self-adhesive cable tie bases or screw-in cable tie mounts, clip-on versions cannot be used on a variety of surfaces, and are limited by what they can clip onto. They are almost entirely designed for use with steel girders. However, when used in this application they have the advantage of being reusable, adjustable and providing a quicker and more secure mount for cables and cable bundles.
Why RS PRO?
RS PRO is our own brand range and brings you a wide range of high-quality, great value products offering you more choice. Trusted by engineers all over the world, every part of every RS PRO product has been rigorously tested against demanding industry standards; they're only given the RS PRO seal of approval if we're confident of their exceptional quality, which means you can be confident too.

For cables and cable accessories, RS PRO has a solution to suit your needs. From fasteners to connectors and more, we're certain our extensive range of specialist and every-day products offers what you need to succeed.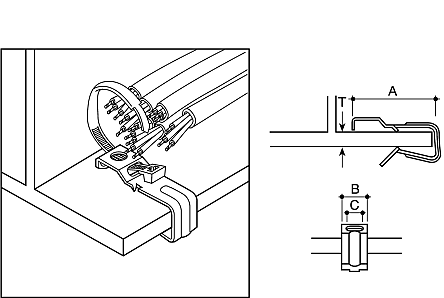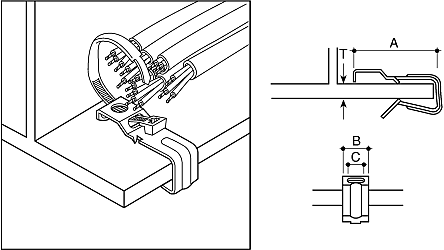 ---
規格
| | |
| --- | --- |
| 屬性 | 值 |
| Flange Thickness | 10 → 18 mm |
| Material | Steel |
| Flange Thickness Maximum | 18mm |
| Flange Thickness Minimum | 10mm |
---