Siemens Panel Mount Solid State Relay, 70 A Max. Load, 460 V Max. Load, 24 V dc Max. Control
RS庫存編號:

472-9250

製造零件編號:

3RF2170-1AA04

製造商:

此圖片僅供參考,請參閲產品詳細資訊及規格
查看所有Solid State Relays
---
RS庫存編號:

472-9250

製造零件編號:

3RF2170-1AA04

製造商:
產品詳細資訊
3RF21 Series
Compact space-saving design, 22mm width
Zero-cross switching
IP20
Mount onto existing heatsinks
Efficient thyristors with high reverse voltage
Screw connections for fast and simple connection
Self-contained unit
Isolation voltage 600Vac
Frequency 50 / 60Hz
Note
Heat sink not included. For load current de-rating and heat sink details see manufacturers datasheet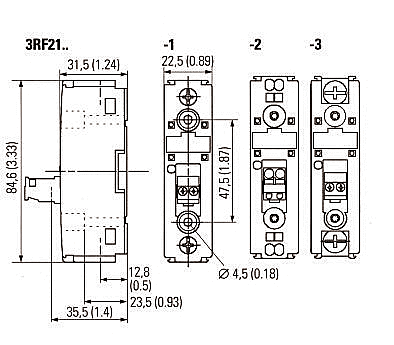 Zero Voltage Relays
Note
Temperature can affect current rating; please consult the data sheet for potential derating.
---
規格
| | |
| --- | --- |
| 屬性 | 值 |
| Minimum Load Current | 0.5 A |
| Maximum Load Current | 70 A |
| Mounting Type | Panel Mount |
| Minimum Load Voltage | 230 V |
| Maximum Load Voltage | 460 V |
| Minimum Control Voltage | 15 V dc |
| Maximum Control Voltage | 24 V dc |
| Switching Type | Zero Crossing |
| Contact Configuration | SPNO |
| Terminal Type | Screw |
| Output Device | Thyristor |
| Maximum Turn On Time | 1 (+1/2 cycle) ms |
| Load Voltage Range | 230 → 460V |
| Control Voltage Range | 15 → 24 V dc |
| Dimensions | 22.5 x 48 x 85mm |
| Operating Temperature Range | -25 → +60°C |
| Length | 22.5mm |
| Off State Leakage Current | 10 mA |
| Height | 85mm |
| Depth | 48mm |
| Minimum Operating Temperature | -25°C |
| Maximum Operating Temperature | +60°C |