Sensata / Crydom Panel Mount Solid State Relay, 50 A rms Max. Load, 530 V rms Max. Load, 32 V Max. Control
RS庫存編號:

184-5999

製造零件編號:

D53TP50D

製造商:

查看所有Solid State Relays
---
當前暫無庫存,可於13/09/2023發貨。
| | |
| --- | --- |
| 單位 | Per unit |
| 1 - 5 | TWD8,459.00 |
| 6 - 11 | TWD8,266.00 |
| 12 + | TWD8,172.00 |
替代產品
該產品我們目前不提供。 這是我們推薦的替代產品。

RS庫存編號:

184-5999

製造零件編號:

D53TP50D

製造商:
COO (Country of Origin):

MX
法例與合規
COO (Country of Origin):

MX
---
產品詳細資訊
53TP 25-50A, 530Vac, 3 Phase SSRs
High reliability
SCR output
LED status indicator
Direct load switching of motors, heaters and transformers
Dimensions:H30 x W73.4 x D103.8mm
Terminal Type Screw; Saddle Clamp
8pF Input-Output Capacitance
Note
Heat sink not included. For load current de-rating and heat sink details see manufacturers datasheet
Caution
Derating will limit the maximum load current at temperatures above 25 °C
Approvals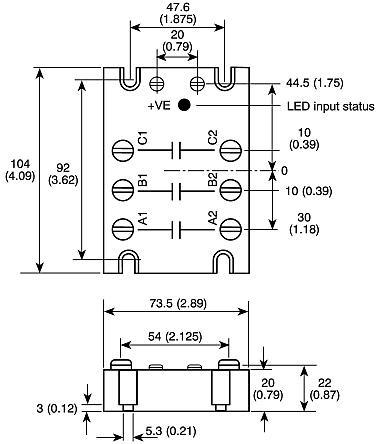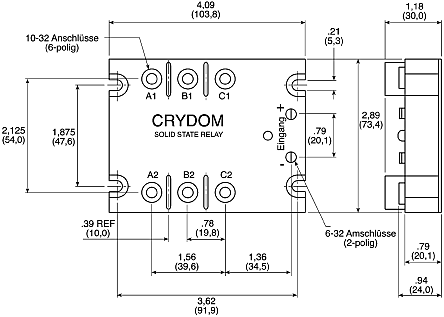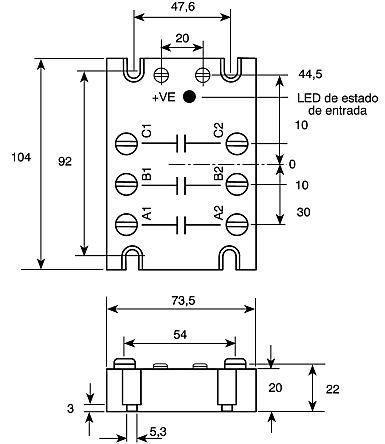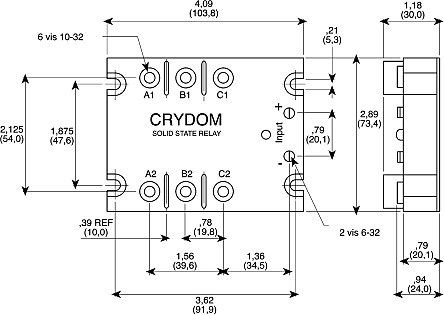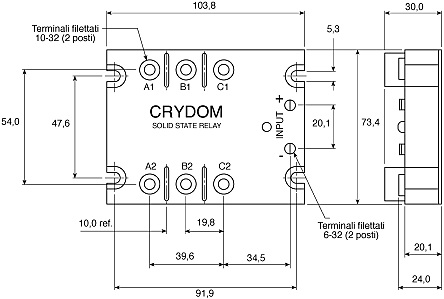 Sensata | Crydom Solid-State Relay, 3 Phases, 0.05 to 50A Load Current Range - 53TP Series - D53TP50D
Use this solid-state relay from Sensata | Crydom for fast and reliable switching functions. As it has no moving parts, there's minimal risk of wear to ensure consistent performance. An SCR output helps to support heavy loads, so it's suitable for demanding applications. Integral transient overvoltage protection of 1200V shields the device against spikes in voltage to prevent equipment damage. You can install this versatile component with AC or DC-controlled lighting systems, microprocessors and automated factory equipment.
Features & Benefits
• LED status indicator for ease of monitoring
• Small size of 103.8 (L) x 30 (W) x 73.4mm (H) for installation in confined spaces
• Broad operating temperature range between -40°C and +80°C for use in challenging conditions
What load current can this solid-state relay handle?
This solid-state relay has a wide load current range of 0.05 to 50A, making it suitable for use in light-duty and demanding applications.
What does zero-cross switching mean?
Zero cross-switching means the solid-state relay is turned on when AC load power approaches 0V, helping to suppress generated noise.
Approvals


Note
Temperature can affect current rating; please consult the data sheet for potential derating.
---
規格
| | |
| --- | --- |
| 屬性 | 值 |
| Minimum Load Current | 0.05 A |
| Maximum Load Current | 50 A rms |
| Mounting Type | Panel Mount |
| Maximum Load Voltage | 530 V rms |
| Minimum Control Voltage | 4 V |
| Maximum Control Voltage | 32 V |
| Switching Type | Zero Cross |
| Output Device | SCR |
| Maximum Turn On Time | 1/2 cycle |
| Control Voltage Range | 3 → 32 V dc |
| Dimensions | 103.8 x 73.4 x 30mm |
| Load Voltage Range | 48 → 530V ac |
| Height | 30mm |
| Minimum Operating Temperature | -40°C |
| Depth | 73.4mm |
| Operating Temperature Range | -40 → +80°C |
| Length | 103.8mm |
| Maximum Operating Temperature | +80°C |
當前暫無庫存,可於13/09/2023發貨。
| | |
| --- | --- |
| 單位 | Per unit |
| 1 - 5 | TWD8,459.00 |
| 6 - 11 | TWD8,266.00 |
| 12 + | TWD8,172.00 |
替代產品
該產品我們目前不提供。 這是我們推薦的替代產品。