RS庫存編號:

353-001

製造零件編號:

MP240D4

製造商:
查看所有Solid State Relays
---
139 現貨庫存,可於6工作日發貨。
| | |
| --- | --- |
| 單位 | Per unit |
| 1 - 9 | TWD1,018.00 |
| 10 - 99 | TWD962.00 |
| 100 + | TWD924.00 |
RS庫存編號:

353-001

製造零件編號:

MP240D4

製造商:
法例與合規
COO (Country of Origin):

MX
---
產品詳細資訊
Series MP 3 - 4A, 240Vac, ac Output SIL
High package density
Compatible with 5, 12 & 24V logic systems
Isolation voltage 4000Vrms
Dimensions: H31.75mm x W10.2mm x D43.1mm
Operating temperature range: -40 to +80°C
Approvals
UL recognised component for Canada and US, VDE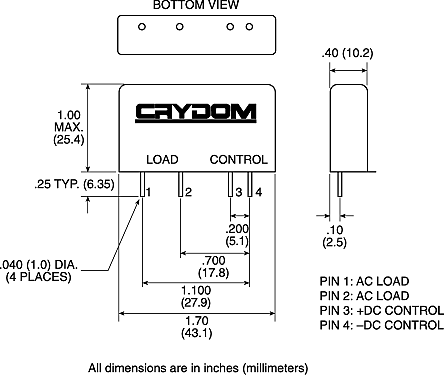 Sensata | Crydom Solid-State Relay, 130A Maximum Surge Current, PCB Mounting - MP Series - MP240D4
Choose this solid-state relay from Sensata | Crydom to switch loads on your AC networks. It has compact dimensions of 43.1 (L) x 10.2 (W) x 25.4mm (H), making it suitable for setups with limited space. This device comes with mounting pins for through-hole mounting on your PCB, giving you a stable connection. Its epoxy housing is resistant to impact and heat, so you can use it in harsh environments. This relay is commonly found in the consumer electronics industry and mobile devices.
Features & Benefits
• Transient overvoltage rating of 600V for protection against powerful surges
• Broad operating temperature range of -40ºC to +80ºC for use in demanding settings
• Load current range of 0.02 to 4A for use in low-current applications
• Maximum turn-on and turn-off time of 0.1ms for a quick response to input signals
What's the dielectric strength of this relay?
This relay has a high dielectric strength of 4000Vrms. This means that it has strong insulation properties for robust protection against electric shock during operation.
Approvals
---
規格
| | |
| --- | --- |
| 屬性 | 值 |
| Maximum Load Current | 4 A rms |
| Mounting Type | PCB Mount |
| Maximum Load Voltage | 280 V dc |
| Minimum Load Voltage | 24 V dc |
| Maximum Control Voltage | 32 V dc |
| Minimum Control Voltage | 3 V dc |
| Switching Type | Zero Crossing |
| Control Voltage Range | 3 → 32 V dc |
| Minimum Load Current | 0.02 A |
| Terminal Type | PCB Pin |
| Output Device | Triac |
| Load Voltage Range | 24 → 280V ac |
| Dimensions | 43.1 x 10.2 x 25.4mm |
| Depth | 10.2mm |
| Height | 25.4mm |
| Maximum Operating Temperature | +80°C |
| Minimum Operating Temperature | -40°C |
| Length | 43.1mm |
| Operating Temperature Range | -40 → +80°C |