RS庫存編號:

522-6190

製造零件編號:

749196501

製造商:
此圖片僅供參考,請參閲產品詳細資訊及規格
查看所有Pulse Transformers
---
RS庫存編號:

522-6190

製造零件編號:

749196501

製造商:
產品詳細資訊
WE-FLEX Transformers
3x2 windings
Isolation voltage 500Vdc
Low stray inductance
Operating temperature: -40°C to +125°C
Applications include: flyback, forward, push-pull, step-down, step-up, SEPIC converters
Note
Power levels of between 1 and 50 Watts can be transformed with the WE-FLEX series transformers. They can be used at switching frequencies of up to 1 MHz.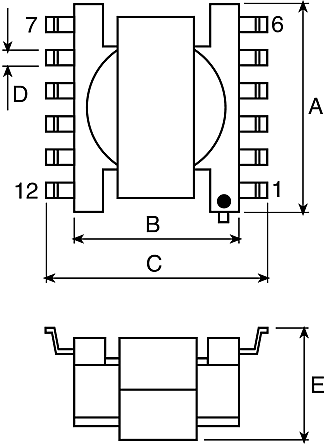 For products that are Customized and under Non-cancellable & Non-returnable, Sales & Conditions apply.
---
規格
| 屬性 | 值 |
| --- | --- |
| Turns Ratio | 1:1:1:1:1:1 |
| Leakage Inductance | 0.24µH |
| Dimensions | 21 x 21 x 10.8mm |
| Depth | 10.8mm |
| Length | 21mm |
| Width | 21mm |
| Maximum Operating Frequency | 1MHz |
| Maximum Temperature | +125°C |
| Minimum Temperature | -40°C |
| Isolation Voltage | 500V dc |