Wurth 20 mH ±30% Leaded Inductor, 3A Idc, 160mΩ Rdc, WE-CMB HC
RS庫存編號:

489-0425P

製造零件編號:

744825320

製造商:

此圖片僅供參考,請參閲產品詳細資訊及規格
查看所有Leaded Inductors
---
1090 現貨庫存,可於6工作日發貨。
| | |
| --- | --- |
| 單位 | Per unit |
| 5 - 9 | TWD234.00 |
| 10 + | TWD231.00 |
RS庫存編號:

489-0425P

製造零件編號:

744825320

製造商:
產品詳細資訊
Wurth WE-CMB XS, M and XL Series Common Mode Chokes
From Wurth Elektronik, the WE-CMB series of common modes chokes are a compact solution delivering high suppression of asymmetrical interferences, even at low frequency ranges. WE-CMB series common mode chokes offer the highest possible current for their ultra compact size. WE-CMB common mode chokes feature broadband screening due to the anti-capacitance coiling technique that has been incorporated into the design.
Features and Benefits:
Compact design
Climatic category: 40/125/21
IEC 60938-2
Flammability: UL 49 V-0
Wide operating temperature range of -40°C to +125°C
Product Applications:
WE-CMB common mode chokes are ideal for the suppression of common mode noise and the suppression of radio interferences in motors. Suitable applications include power line in and output filters, power electronics and the filtering of devices lacking a ground connection.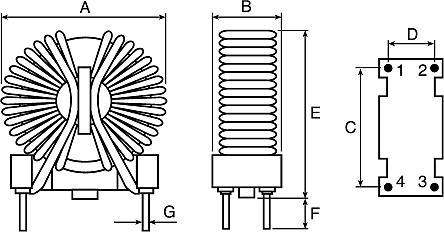 Wurth Leaded Inductors (Chokes)
---
規格
| | |
| --- | --- |
| 屬性 | 值 |
| Inductance | 20 mH |
| Maximum DC Current | 3A |
| Mounting Type | Radial |
| Maximum DC Resistance | 160mΩ |
| Tolerance | ±30% |
| Length | 30.5mm |
| Depth | 19mm |
| Height | 35mm |
| Dimensions | 30.5 x 19 x 35mm |
| Lead Pitch | 25mm |
| Series | WE-CMB HC |
| Terminal Type | Through Hole |
| Minimum Operating Temperature | -40°C |
| Maximum Operating Temperature | +125°C |